PVC Plantation Shutters are an elegant, luxurious style of home shading that is vastly popular in Australia. PVC Plantation Shutters enhance your windows and enrich your décor like no other home shading products. Known as plantation shutter because of their classic colonial influenced design, our Window Plantation Shutters are perfectly at home in any property and every room. These PVC shutters have historically been associated with the grand homes of the American South but have since become popular across the world. From a contemporary townhouse to a country manor, from a lounge or bedroom to kitchen or bathroom plantation shutters, ASE always add class and a touch of distinction.
The benefits of the louvre design of our elegant Plantation Shutters enables simple and effective control of light and privacy, whilst maximising the usable space under the window. Open them and let the external light flood in, or close them for complete privacy. Our Plantation Shutters also provide protection from the fading effects of direct sunlight; whilst for urban areas, they provide an additional barrier to intrusive outside noise and privacy from the street.
Our PVC Plantation Shutters are VOC free and made right here in Victoria.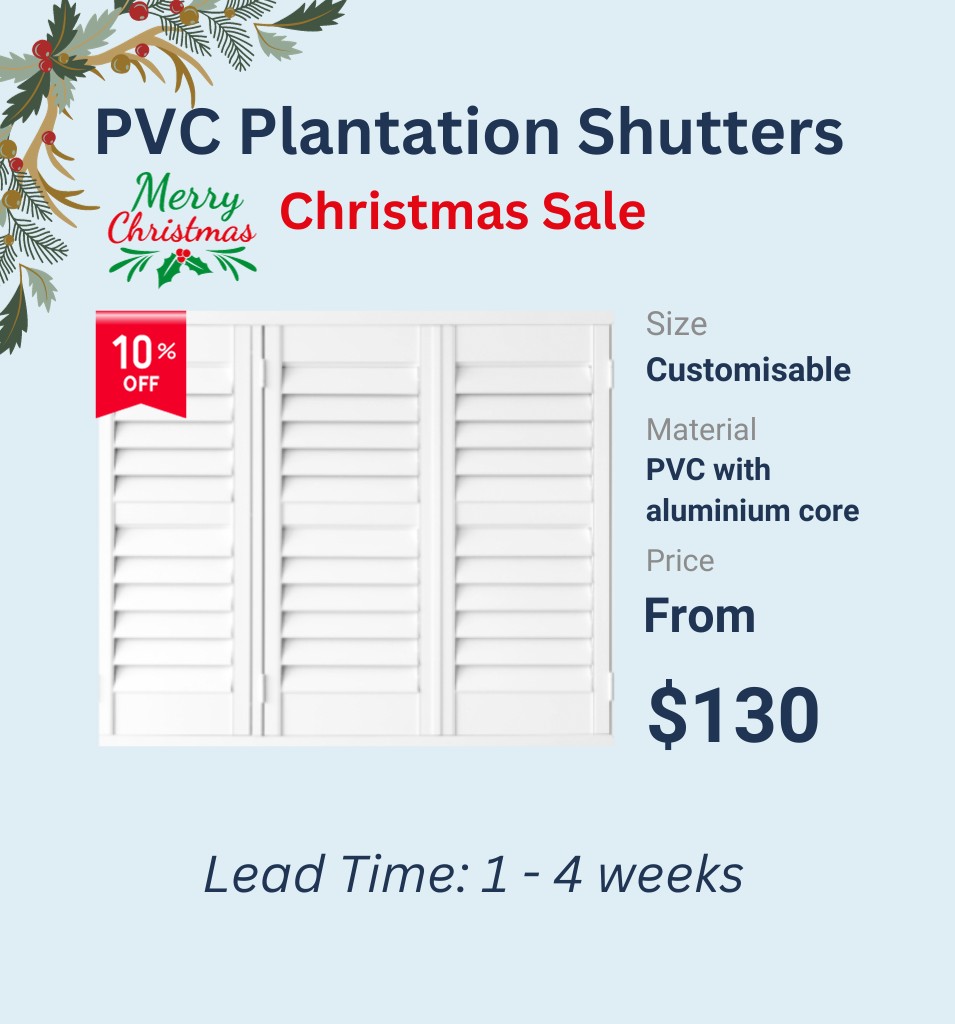 Why PVC Plantation Shutters?
1.Durability and longevity
Plantation shutters are made from long-lasting materials such as wood, vinyl, or faux wood, ensuring they will look great for years to come.
2.Easy maintenance
Unlike curtains or blinds, plantation shutters are easy to clean with just a damp cloth, which makes them ideal for high-traffic rooms or spaces where hygiene is important.
3.Light control
Plantation shutters offer excellent light control, allowing you to adjust the amount of natural light entering your room by adjusting the blades. This is particularly useful during summer months when rooms can become uncomfortably hot.
4.Energy efficiency
Plantation shutters can help insulate your home by reducing heat loss through windows during colder months. This translates to lower heating bills and greater energy efficiency.
5.Aesthetics
Plantation shutters add a designer touch to any room, thanks to their elegant lines and modern feel. They come in various styles, making them a versatile window treatment option for any home décor.
Why choose our PVC Shutters?
1.Local made PVC plantation shutters, with customised sizes and styles.
Our local made PVC Plantation Shutters are customizable in terms of the size, shape, and style to fit the needs of any home. They can be made to fit almost any window size, from standard square and rectangles to circles, arches, and irregular shapes.
2.Fast production lead time, depending on your choice for your order.
Local made PVC plantation shutters compare with imported shutters from overseas, much quicker, save time, customers don't need to wait for 8-10 weeks. Normally 2-3 weeks, fast turnaround time, customers will have their own customised PVC plantation shutters.
3.Durable product quality, a great choice for long-term use.
Reinforcement structure with 89mm sized, aluminium cored louvers, with beautiful snow-white finishing. Clear-view tilt rods hidden behind the louvers. And we offer additional features to maximise your usage experience such as divider rails to make operating your plantation shutters even easier.
4.Consult with a professional, real person in-time response
If you're unsure about any of these options or how to properly measure for your plantation shutters, consult with our professional installer or designer.
How to choose your PVC Shutter Frame
Plantation shutters can come in different frame designs depending on the customer's choice and the installation method used. The most common plantation shutter frames include
1.L-frame: This is a basic flat frame that attaches directly to the window or door jamb.
2.Z-frame: This frame has a lip that wraps around the window opening and hides the edge of the drywall or trim. This gives a cleaner, more elegant appearance.
3.U-Channel frame: This frame is a U-shaped channel used to attach the shutter panels to the window frame. It allows the fixed shutters to open, by lifting the shutter panel and taking it out.
4.Invisible frame: This frame is designed to be hidden behind the shutter panels when closed, giving a seamless appearance.
In addition to the frame design, plantation shutters can also have different options, materials and layout design to fit the style and functionality desired by the homeowner. Customization available via our online order system.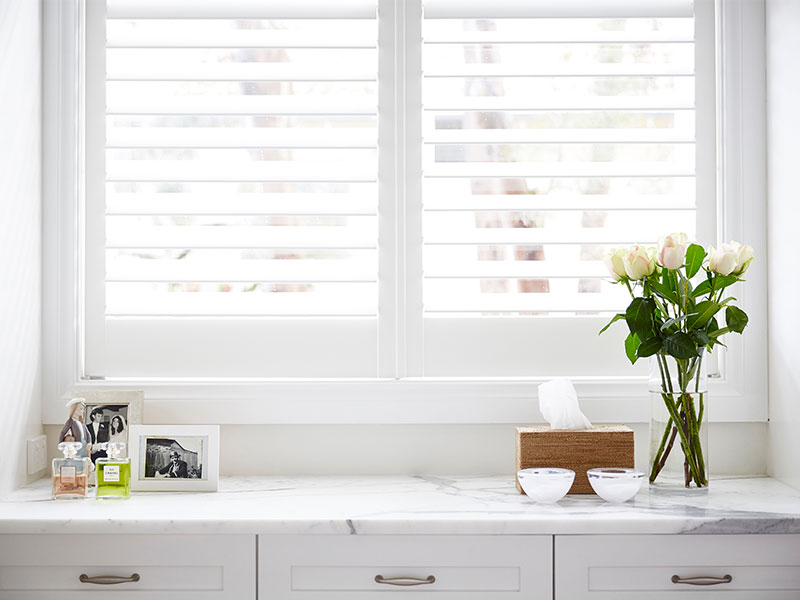 According to our previous experiences, we often receive the consults that customers want to buy shutter parts to DIY. That's a good idea, and the answer is also affirmative. Compared with other shutter products, DIY PVC Shutter Kit is more competitive in price.
Do I have to make shutters on my own?
It is certainly not. We won't only provide you materials and let you cut by yourself. Our DIY PVC Shutter Kit includes customized shutter parts and hardware. You only to assemble and install it by following the instructions, and the process is not complex.
(*The price is different according to the time required.)
What are in the PVC shutter Kit?
The things in the suit are not as complex as what you think.
1. Frames
2. Stiles
3. Rails
4. Louvres
5. Hardware
Reason for choosing DIY PVC Shutter Kit
Everyone has their own reasons for choosing, but the price is definitely one of the key reasons for choosing PVC shutter Kit.
Compared with the expensive material costs of Basswood shutter (wooden shutter) and the labor costs of installation, PVC Shutter Kit is a wise choice in your limited budget.
There is no difference between the quality and design of other PVC shutter products. They have the same production mode, assembly process, hardware and product warranty.
Similarly, if you are the amateur of DIY, PVC Shutter Kit can bring you perfect DIY experience. What could be more interesting than making a shutter for your home?
You don't know how to assemble? It doesn't matter. We have the most detailed guides.
Each of our PVC Shutter Kit is included with Assembly and Installation instructions.
There are also corresponding video guides and shutter parts descriptions.
Take it easy. There is nothing to be worried about, and the whole process is not complex. However, if you've doubts or concerns, why not contact us to discuss? Our experienced team and shutter experts are willing to answer your questions.
Please visit our local store for more information of Plantation Shutters.