Timber plantation shutters, also known as wooden plantation shutters, are a type of interior window shutter made from basswood. Timber is a popular choice for plantation shutters because it is a lightweight and straight-grained hardwood that is easy to work with, making it ideal for creating intricate and detailed designs. Timber also has a fine, uniform texture and a pale, creamy color that makes timber shutters an attractive and versatile option for a range of interior décor styles.
Timber shutters are available in a variety of finishes, including natural wood stains and painted colors, which can be customized to match the look and feel of your home. They are also a popular choice for their durability and ability to withstand wear and tear, making them a long-lasting investment for your home.
*If you would like to order timber shutters for a window with a special shape, or you prefer bifold, French door, sliding door styles of shutters, please feel free to contact with our office for a quotation.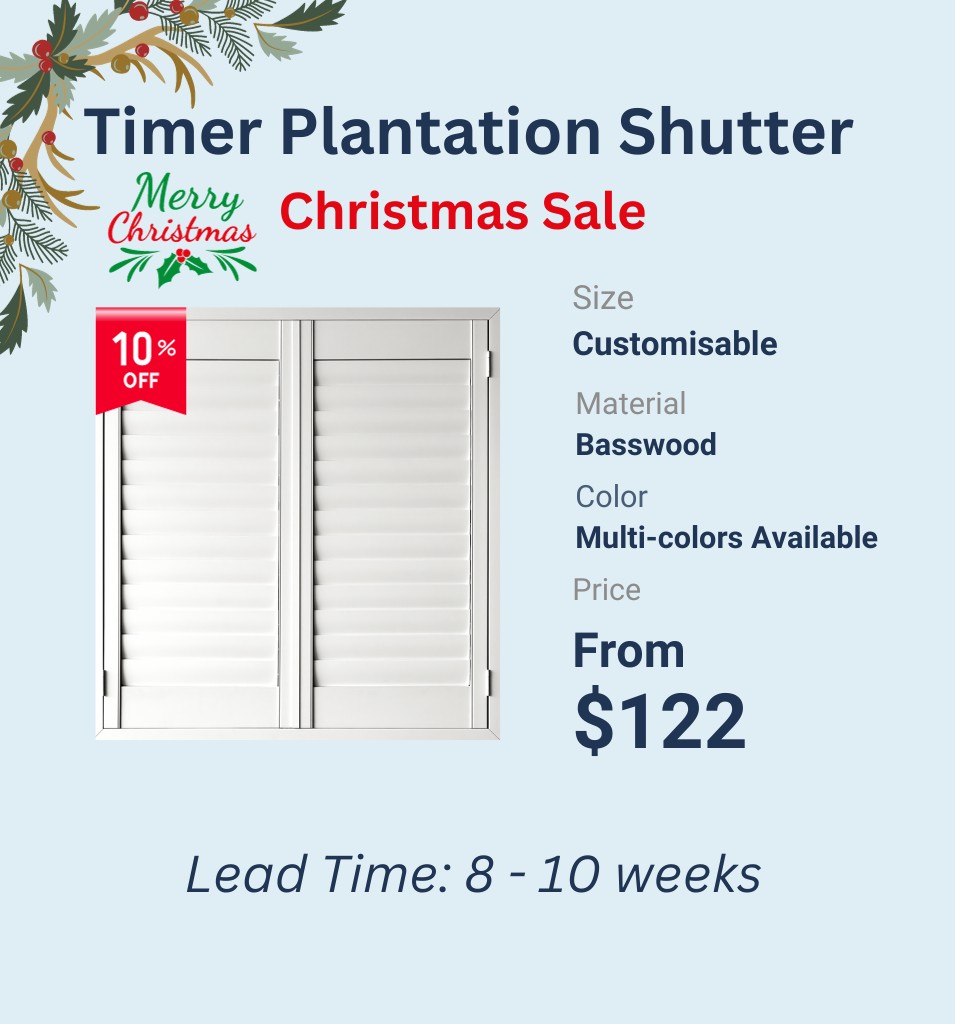 Why people choose Timber Shutters?
There are several reasons why people choose timber shutters for their homes:
Aesthetics: Timber has a smooth and uniform texture, and its pale, creamy color can be stained or painted to match any décor style. Timber shutters have a timeless and elegant look that adds warmth and character to any room.
Durability: Timber is a durable hardwood that resists warping, cracking, and splitting, making it ideal for use in shutters. Properly maintained, timber shutters can last for many years.
Energy Efficiency: Timber shutters can help insulate windows, keeping your home cooler in summer and warmer in winter, reducing the need for air conditioning and heating, and helping to lower your energy bills.
Light Control: Timber shutters offer excellent light control, allowing you to adjust the amount of light that enters your room.
Privacy: Timber shutters provide a high level of privacy, giving you complete control over the amount of visibility into your home.
Value: Timber shutters are a good investment for your home, as they can increase its value and appeal to potential buyers.
Overall, timber shutters are a popular choice for their beauty, durability, energy efficiency, light control, privacy, and value, making them an excellent option for any homeowner.
Why choose Aussie Shutter Express for timber shutters?
Aussie Shutter Express is a reputable and reliable company that specializes in the design and installation of high-quality timber plantation shutters in Melbourne. Here are some reasons why you might choose Aussie Shutter Express for your timber shutter needs:
Quality: Aussie Shutter Express uses only the highest quality materials and craftsmanship to create its timber plantation shutters, ensuring that they are durable, long-lasting, and able to withstand the harsh Australian climate.
Customization: Aussie Shutter Express can customize its timber plantation shutters to fit any window or door, allowing you to get the perfect fit and look for your home.
Experience: Aussie Shutter Express has several years of experience in the industry, and its team of experts has the knowledge and expertise to deliver high-quality products and services.
Competitive pricing: Aussie Shutter Express offers competitive pricing on its timber plantation shutters, making them an affordable option for customers.
Customer service: Aussie Shutter Express is committed to providing excellent customer service, and its team is always available to answer any questions or concerns you may have.
Overall, Aussie Shutter Express is a trusted and reliable choice for timber plantation shutters, offering high-quality products, customization options, experience, competitive pricing, professional installation services, and excellent customer service.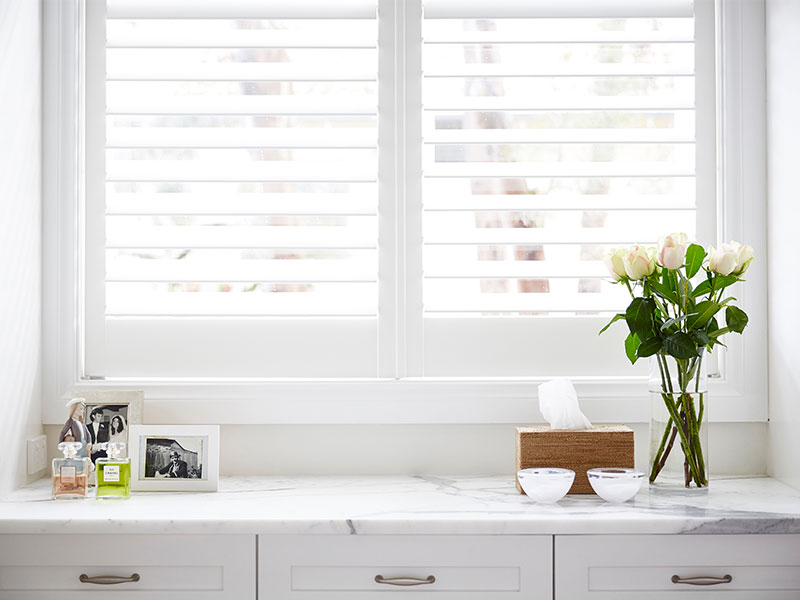 According to our previous experiences, we often receive the consults that customers want to buy shutter parts to DIY. That's a good idea, and the answer is also affirmative. Compared with other shutter products, DIY PVC Shutter Kit is more competitive in price.
Do I have to make shutters on my own?
It is certainly not. We won't only provide you materials and let you cut by yourself. Our DIY PVC Shutter Kit includes customized shutter parts and hardware. You only to assemble and install it by following the instructions, and the process is not complex.
(*The price is different according to the time required.)
What are in the PVC shutter Kit?
The things in the suit are not as complex as what you think.
1. Frames
2. Stiles
3. Rails
4. Louvres
5. Hardware
Reason for choosing DIY PVC Shutter Kit
Everyone has their own reasons for choosing, but the price is definitely one of the key reasons for choosing PVC shutter Kit.
Compared with the expensive material costs of Basswood shutter (wooden shutter) and the labor costs of installation, PVC Shutter Kit is a wise choice in your limited budget.
There is no difference between the quality and design of other PVC shutter products. They have the same production mode, assembly process, hardware and product warranty.
Similarly, if you are the amateur of DIY, PVC Shutter Kit can bring you perfect DIY experience. What could be more interesting than making a shutter for your home?
You don't know how to assemble? It doesn't matter. We have the most detailed guides.
Each of our PVC Shutter Kit is included with Assembly and Installation instructions.
There are also corresponding video guides and shutter parts descriptions.
Take it easy. There is nothing to be worried about, and the whole process is not complex. However, if you've doubts or concerns, why not contact us to discuss? Our experienced team and shutter experts are willing to answer your questions.
Please visit our local store for more information of Plantation Shutters.