What is DIY Plantation Shutter Kits:
Our DIY plantation shutter kits allow you to assemble and install high-quality shutters easily and affordably by yourself.  Price from $219/m2, save money on your shutters.
All our plantation shutter kits are manufactured in Melbourne, fast lead-time from 1-4 weeks.
The quality is totally same as assembled plantation shutters (premium-quality PVC material with aluminium core for more stable structure), but the price is more wallet-friendly.
It's very easy to assemble, easy to install and easy for your own time schedule.
You can find printed instructions for assemble in box and video online.
What is the different between PVC Plantation Shutter and DIY Shutter Kit:
Compared with PVC Plantation Shutter, our DIY Plantation Shutter kit is unassembled panel status in package. It allows you to assemble shutter panel by yourself. Of course, the price of DIY Shutter Kits is more wallet friendly.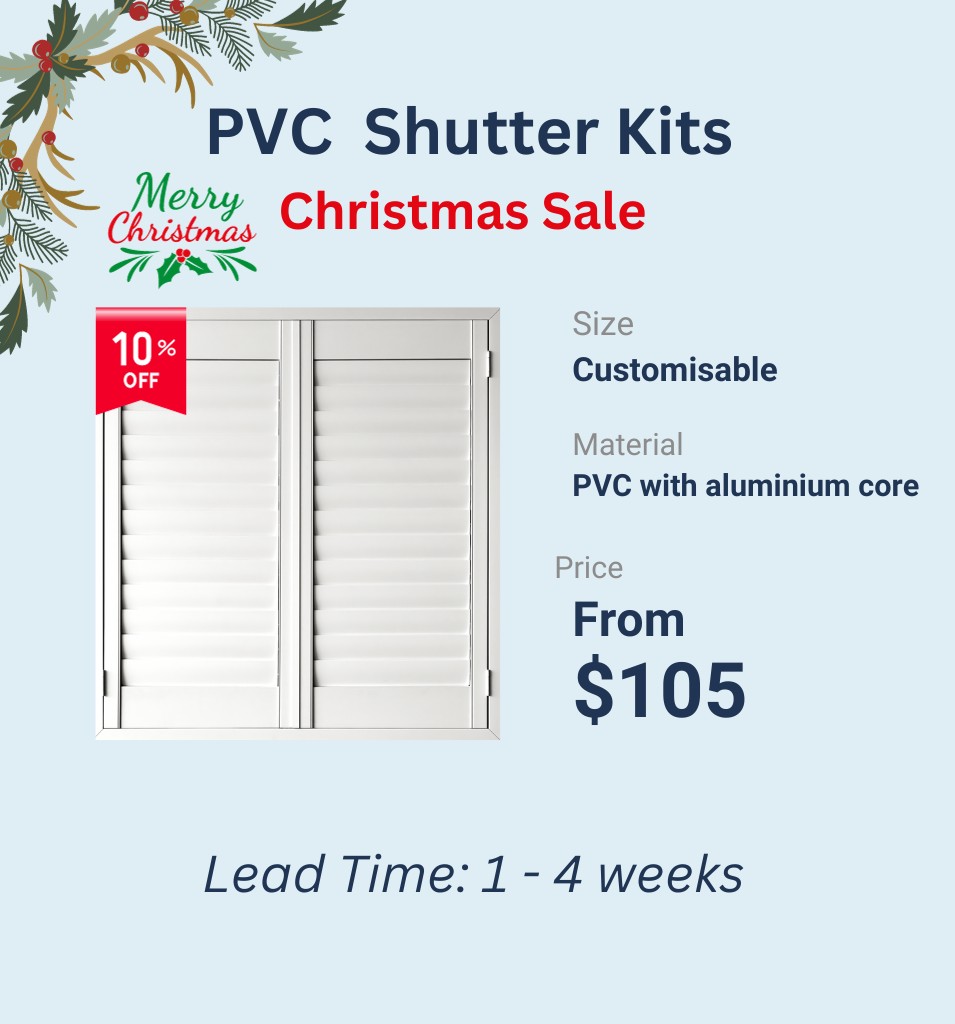 What is provided in Plantation Shutter Kits:
The things in the kit box are not as complex as what you think.
All shutter components (Frames/ Stiles/ Rails/ Louvres)
Hardware
Printed Instructions
We also provide"How to Assemble" video in our website, you only need to follow the guides and feel free to assemble and install, you can control the whole process, enjoy the process and completion of DIY. If you have any questions in the DIY process, please do not hesitate to contact us.
Why choose DIY shutter kits?
When it comes to choosing shutters for your home, there are a few important considerations need to do:
1. Privacy: the ability to protect your home from prying eyes
2. Durability: the ability to withstand sunlight and moisture
3. Design: the ability to work within the space both in design and functionality
Ready-made blinds are manufactured to a range of standard sizes which are limited in their colour and class of shutters available. Compared to DIY Shutter kits, shutters which are made to the exact plan you order (size, DIY type, etc.) will ensure the shutter fits perfectly within your window frame and suit your needs.
Do I have to make shutters on my own?
It is certainly not. We won't only provide you materials and let you cut by yourself. Our DIY PVC Shutter Kit includes customized shutter parts and hardware. You only to assemble and install it by following the instructions, and the process is not complex. Each of our PVC Shutter Kit is included with Assembly and Installation instructions.
There are also corresponding video guides and shutter parts descriptions.
Take it easy. There is nothing to be worried about, and the whole process is not complex. However, if you've doubts or concerns, why not contact us to discuss? Our experienced team and shutter experts are willing to answer your questions.
What Aussie Shutter Express can bring you with Plantation Shutter Kits:
Free sample, to see the colour and quality.
Professional recommendations for customized design.
Lowest Price, outstanding quality guarantee.
5-Stars customer service, excellent and fast after-sale support.
ASE warrants its structure plantation shutters for five (5) years. This warranty is against any defects in material or workmanship and is in addition to any other obligations imposed by law. This warranty does not include freight and installation costs.
This warranty does not cover:
– Abuse or misuse
– Everyday wear and tear
– Maintenance and care not in accordance with the recommendations listed below
– Damage to premises
– Use of silicon and chemical-based sprays